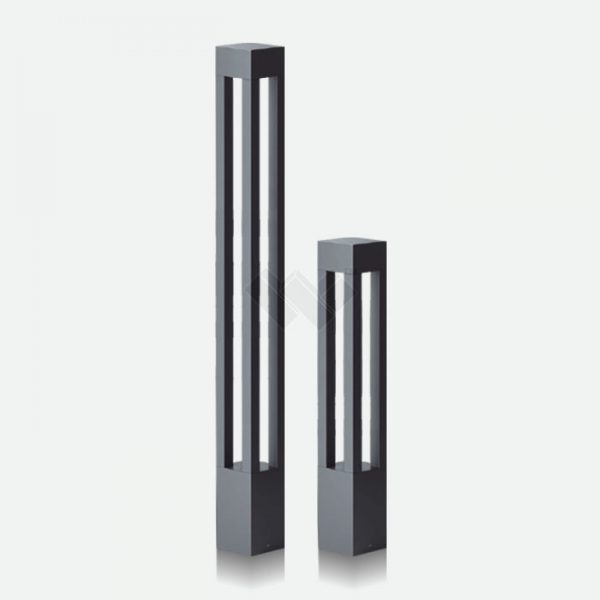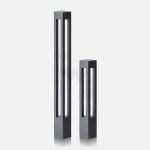 EILEEN
EILEEN bollard light adopt CREE led as a light source.
Made of robust design die cast aluminum alloy with cost effective and durable LED technology.
Good corrosion resistance fluorocarbon paint processing coating.
Reflector made of pure anodized aluminum and clear tempered glass light transmission with high strength silicon rubber seal.
Luminaire provides radial light distribution which suitable for the anti-glare illumination of ground surface.
It is giving the visually treat the illuminating in the gardens, driveways and footpath.
IP65 fixture is suitable in outdoor, public and landscape lighting application.
Description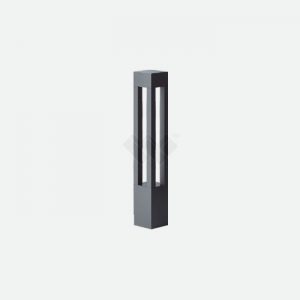 WL921014 10W H600
| Product Code | LED | Power | Lumen | Input | CRI | Finish | Beam_Angle | CCT | IP_Rating | IK_Rating | PF | Dimension |
| --- | --- | --- | --- | --- | --- | --- | --- | --- | --- | --- | --- | --- |
| WL921014.04.R4.30 | SMD | 10W | 850lm | 100~240VAC | >80 | Black | Radial_ 4Side | 3000K | IP65 | IK08 | >0.9 | 150x150x600mm |
| WL921014.06.R4.30 | SMD | 10W | 850lm | 100~240VAC | >80 | Grey | Radial_ 4Side | 3000K | IP65 | IK08 | >0.9 | 150x150x600mm |
| WL921014.04.R4.40 | SMD | 10W | 850lm | 100~240VAC | >80 | Black | Radial_ 4Side | 4000K | IP65 | IK08 | >0.9 | 150x150x600mm |
| WL921014.06.R4.40 | SMD | 10W | 850lm | 100~240VAC | >80 | Grey | Radial_ 4Side | 4000K | IP65 | IK08 | >0.9 | 150x150x600mm |
| WL921014.04.R4.60 | SMD | 10W | 850lm | 100~240VAC | >80 | Black | Radial_ 4Side | 6000K | IP65 | IK08 | >0.9 | 150x150x600mm |
| WL921014.06.R4.60 | SMD | 10W | 850lm | 100~240VAC | >80 | Grey | Radial_ 4Side | 6000K | IP65 | IK08 | >0.9 | 150x150x600mm |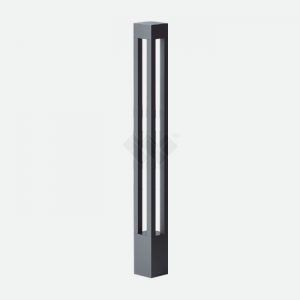 WL921015 15W H1000
| Product Code | LED | Power | Lumen | Input | CRI | Finish | Beam_Angle | CCT | IP_Rating | IK_Rating | PF | Dimension |
| --- | --- | --- | --- | --- | --- | --- | --- | --- | --- | --- | --- | --- |
| WL921015.04.R4.30 | SMD | 15W | 1275lm | 100~240VAC | >80 | Black | Radial_ 4Side | 3000K | IP65 | IK08 | >0.9 | 150x150x1000mm |
| WL921015.06.R4.30 | SMD | 15W | 1275lm | 100~240VAC | >80 | Grey | Radial_ 4Side | 3000K | IP65 | IK08 | >0.9 | 150x150x1000mm |
| WL921015.04.R4.40 | SMD | 15W | 1275lm | 100~240VAC | >80 | Black | Radial_ 4Side | 4000K | IP65 | IK08 | >0.9 | 150x150x1000mm |
| WL921015.06.R4.40 | SMD | 15W | 1275lm | 100~240VAC | >80 | Grey | Radial_ 4Side | 4000K | IP65 | IK08 | >0.9 | 150x150x1000mm |
| WL921015.04.R4.60 | SMD | 15W | 1275lm | 100~240VAC | >80 | Black | Radial_ 4Side | 6000K | IP65 | IK08 | >0.9 | 150x150x1000mm |
| WL921015.06.R4.60 | SMD | 15W | 1275lm | 100~240VAC | >80 | Grey | Radial_ 4Side | 6000K | IP65 | IK08 | >0.9 | 150x150x1000mm |